The Sergeants' Leadership Program is the best value today in supervisory leadership training.
We ask for and receive thoughtful, candid feedback. We find that about 96% would recommend TSLP to a colleague and about the same percentage find the instructors either excellent (75%) or satisfactory (25%).
"The Sergeants' Leadership Program is a great first step in helping our Sergeants understand the important role they that play in leading the men and women under their command.  Its this foundation that your program helps build in transforming them from line level officer to supervisor." — Chief Steven Mazzie, Everett MA and Past President, Mass. Major City Chiefs
Evidence tells us that The Sergeants' Leadership Program has grown into a uniquely powerful professional development opportunity for first-line leaders. We believe now that it is the best choice for chiefs looking to invest in the long-term effectiveness and wellness of their supervisory leadership corps.
96% of our more than 1,000  students say they would recommend TSLP to a colleague.
"The class was OUTSTANDING!!!!   I'm speaking of content, applicability, relatability, and classroom operations (pace and conduct) – you don't find all of these in one place!

I've been in Law Enforcement for 37 years I would make this class a prerequisite to APPLYING for a supervisor, FTO, or Team-Lead position!" — Sgt. Stephen A. Taranto Jr., BU Medical Center, Waltham, MA PD (ret.), TSLP 36
Register Today!  Just click on REGISTER above.
"Just to let you know I was very impressed with your delivery as far as your ability to act as a teacher. Police are very difficult students especially staff, because they automatically make spot evaluations of people. It's a natural defensive trait that gets developed in us over time. Modern policing also a very difficult job to understand by people who have never done the job because we really have to be experts in so many things and we can't make mistakes. I liked the way you applied management principles to some of the things that we do and I found you very interesting to listen to and understand." — Sgt. Paul Stone, Danvers, MA, TSLP 10
TSLP  is the best choice for both new and incumbent sergeants. In fact, the mix creates a powerful learning opportunity for both the veterans and the rookies.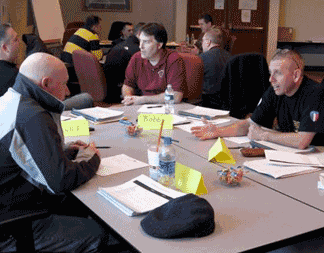 Our primary educational principle is to see the student as learner and the instructor as facilitator.  The main action in the classroom is students' self-assessment and self-examination: students reflecting on their experiences in law enforcement and criminal justice in the context of the knowledge we present.  To model this behavior we provide students a number of opportunities to do self-assessments, in areas such as personality preferences (Meyers-Briggs), communication, decision-making, teaching and coaching and emotional survival (using materials from Dr. Kevin Gilmartin).
We review each of the in-depth evaluations that we ask each participant to complete at the end of every class.  More importantly, we ask for criticism. Just as we ask of our students, we examine honestly our strengths and weaknesses, to be of optimal service. We change and improve TSLP each time we offer it, based on the feedback from these evaluations.
"I thought the training was very helpful and I think that it serves as a good first step in leadership training. The class has a lot group think sessions and provides you with several different techniques in problem solving i.e problem employees and how to get subordinates to help in developing solutions to community problems.

The class is strictly geared toward Sergeants and the role as front line supervisors who work closely with their subordinates. The class also has a component dealing with Emotional Survival based on the Kevin Gilmartin book of the same name. The class has a video taped lecture by Dr Gilmartin dealing with the biological effects of police work on the officer.

I would recommend the class for new sergeants as the first step in leadership training. — Sgt. Scott Stallbaum, Everett, MA, TSLP 34
The Course at a Glance
The TSLP Leadership Framework
Adaptive Leadership
MBTI
Followership
Decision-making
Race and Policing
Management Tools
Group Dynamics
Differentiation
Crucial Communication
Managing Problem Personnel
Surviving and Thriving
Teaching and Coaching
Managing Problem Officers
Update on Suicide Prevention
Emotional Survival
Making the Transition
Your Goals
Goal setting
Using a Dashboard
"I really appreciated the effort you and Liz put into my training program. It was an eye-opening experience and very educational. I wish I had it years ago.  (All police officers are leaders in some way, regardless of rank- in my opinion anyway!!!)"   —  Sgt. Jim Page, Salem, MA TSLP 10
Read the point of view of chiefs and sheriffs who believe in TSLP!
The following chiefs and sheriffs have sent all of their sergeants to TSLP and give us ongoing feedback to make improvements.  Contact any one of them for perspective.
Sheriff Thomas Bowler, Berkshire MA County
Chief Steven Carl, Assumption College and Framingham MA PD
Chief (ret.) Robert Champagne, Peabody, MA
Chief Terence Cunningham, Wellesley, MA
Sheriff Frank Cousins, Essex MA County
Dr. John DeCarlo, Chief (ret.) Branford CT, University of New Haven
Sheriff Christopher Donelan, Franklin MA County
Chief Steven Mazzie, Everett, MA
Chief Daniel O'Leary, Brookline, MA
Chief Frederick Ryan, Arlington, MA
Chief (ret.) Paul Tucker, Salem, MA